---
As we look back on 2022, we see a year resembling few others in recent times. The pandemic loosened its grip on North Texans but maintained a conscious influence in our community. Political turmoil pressed us to ideological margins. Economic instability strained business, community, and individual choices along financial and personal lines. Racial unrest continued to lay bare our profound social challenges, and mass violence permeated all corners of our country. It was a year packed with a lifetime of challenges.
With challenges come opportunities to serve. Throughout the pages of this report, you will read about how Project Unity thrived in serving people from all walks of life, especially those from marginalized communities, despite the uncertainties we all faced. Through the generosity of our partners and donors, annual contributions surpassed $800,000 for the first time in our 10-year history. Giving and strategic alliances propelled us to reach even more milestones. Last year's participation in our Together We Dine™ and Together We Learn™ programs set enrollment records. After a two-year pandemic pause, Together We Ball™ and Together We Sing returned with amazing success. Attendance at both events, including a sold-out Together We Sing crowd at the Meyerson Center, reaffirmed the unifying power these programs still possess. Remarkable outcomes require remarkable people, partners, and visionary leadership. Thank you to our Board of Directors, employees, volunteers, sponsors, and donors. Perhaps now more than ever, words from an old African proverb state the reality of achieving success in American business today, "it takes a village…."
We are excited about continuing the momentum of recent years into 2023. We continue to grow our programs that build bridges across racial divides and improve community-police relations. We will build new strategic partnerships and nurture the ones we currently have. While we will continue to focus on serving Dallas and North Texas, we will embrace the right opportunities beyond Texas borders.
The following pages tell the story of our 2022 impact in North Texas and the sound stewardship of the resources to which we were entrusted. Read on and then join "our village" in driving our difference-making work to even greater heights in 2023 and beyond!
Respectfully,

RICHIE BUTLER
Founder, Project Unity &
Sr. Pastor, St. Luke
Community UMC
RHETTA BOWERS
State Rep, District 113 Texas
House of Representatives
JEFF MEADE
Board Secretary
Founder, MEADE
ROBERT MUNOZ
Manager, DPD Community
Affairs Community Engagement
Operations Bureau
ALMAS MUSCATWALLA
Board Chair
Civic and Interfaith Leader
ERIC OCHEL
Commercial Real Estate
Sales Consultant,
C82 Commercial
REV. MATTHEW RUFFNER
Senior Pastor, Preston Hollow
Presbyterian Church
article
EXPAND STORY
Project Unity concluded its Together We Vaccinate (TWV) program to address COVID-19 vaccine access issues throughout Dallas. TWV program launched in 2021 with the rollout of COVID-19 vaccines in Dallas' hardest hit, underserved communities. Our work eventually stretched into early 2022 touching thousands of lives along the way.
We hosted 50 vaccination events across 81 North Texas zip codes. We collaborated with eight community partners and used 15 different locations throughout Dallas County to deliver vaccines to 2,665 individuals. Our work in these vulnerable communities would not have been possible without our incredible sponsors, gracious partners from the faith, business, and medical communities, and over 100 amazing volunteers who gave their invaluable time and skills to make Dallas a healthier place to live.
2021-22 Facts & Figures
2,665        Individuals Served
50             Vaccination Events Held
81            1Zip Codes Served
15              Unique Vaccine Sites
article
EXPAND STORY
Since inception, Together We Can has been one of our DEI-focused programs that incorporates friendly steps for participants that meet them where they are in terms of personal views on race and race relations. Founded by pastor and local business leader Richie Butler and Dallas attorney Robert Crain in 2020, Together We Can underscores the complexity and value of understanding people who ask the simple question – How can I be a part of the solution?
Together We Can is a 1-2-3 solution for organizations and individuals alike. Enrollees wear a Together We Can wristband to promote conversations about race, agree to participate in a Together We Dine event and/or encourage others to attend, and spend at least one hour per month dedicated to nonjudgmental, personal listening, learning, and introspection in whatever space they feel comfortable using personal resources and/or vast resource options we provide each month.
2021-22 Facts & Figures
850          Participants
1,989        Wristbands Distributed
article
EXPAND STORY
Conversations around race and race relations are rarely simple or easy to achieve. However, at Project Unity, our approach focuses on providing a forum for safe, non-threatening, nonjudgmental group conversations that allow people to speak, think, share, and ask questions from whatever perspective they hold about race and other issues in America and within their own communities. When groups and individuals participate in a Together We Dine event, they meet people from all walks of life and share a meal in a safe space where unifying conversations unfold and new relationships blossom.
Together We Dine was our most popular program again last year. Attendance increased by 12% pushing us to record-level enrollment in 2022. Participants joined from throughout Texas and as far away as California, Florida, and New York. Our successful work proves the powerful community building potential that a well-designed, judgement-free, safe space for racial conversations can be a crucial building block toward creating a bridge that shortens our racial divides. Feedback has been overwhelmingly positive, with one diner telling us, "I learned that we all make internal assumptions about people… but most of the time, these can be incorrect assumptions. This opportunity allowed me to hear what others had to say, and it really helped me get to know them and learn that there is so much more to them." And a good meal never hurts!
2022 Facts & Figures
69            Events Conducted
3,169        Participants
63            Trained Volunteers
1,212         Volunteer Hours Served
article
EXPAND STORY
Thanks to major partners like Communities Foundation of Texas, Bank of Texas, and Sewell Lexus of Dallas, we resumed one of our most important and pressing youth programs. After a pandemic-driven pause, Together We Learn returned to overwhelming interest from area high schools.
Reports of deadly force encounters between law enforcement and civilians are disturbingly commonplace in American society today. In partnership with the National Black Police Association and the Dallas Police Department, our Together We Learn program delivers potentially life-saving practicum to students on the proper actions and behaviors during police encounters.
Together We Learn (TWL) expands on the tenets of the Texas Community Safety Act (Senate Bill 30) aimed at informing and preparing students for safe vehicle and pedestrian encounters with police. Our program uses a police-led workshop, in-person instruction, a comfortable dialogue between students and officers, and simulated police stops to enrich the learning experience.
Last year, hundreds of students completed this potentially life-saving training that benefits community teens and police officers alike. A broad range of high schools participated in 2022, including Booker T. Washington High School, four campuses of International Leadership School of Texas, Jesuit Preparatory School Dallas, and Mesquite's John Horn High School. TWL increased student understanding of how to act and react during encounters with law enforcement and improved student comprehension of laws while operating motor vehicles in Texas. We will impact even more students and peace officers' lives in 2023!
2022 Facts & Figures
790           Students Who Completed Training
95%          Students with Improved Understanding of Driving Laws after Training
96%          Students with Improved Understanding of How to Act and React to Law Enforcement during Traffic and Pedestrian Stops after Training
63%          Students with Positive or Better Perception of Police after Training
article
EXPAND STORY
Together We Sing (TWS) is Project Unity's signature fundraising event. Returning after a two-year pandemic hiatus, TWS is quickly becoming one of the city's most anticipated experiences of the year. TWS brings together people from all over North Texas and beyond for a night of inspiration, unity, and amazing musical performances.
In 2022, we packed the house with a sold-out audience at the Meyerson Symphony Center. We raised more than $300,000 to help fund our community programming and achieve record-level enrollment across all programs in 2022.
The night featured a special musical tribute to Grammy Award-winning artist Richard Smallwood. Special guest performers included the incomparable Gospel recording artist Tamela Mann and the NFL Players Choir. The audience also enjoyed the captivating sound of the 60-member Dallas Symphony Orchestra and the remarkable and culturally diverse voices of the nearly 200-member Unity Choir.
We introduced the "Together We" Awards that honor a broad range of champions that include businesses and organizations across industries as well as individuals. Honorees worked tirelessly in their areas of influence to stand against racism and advocate for the health and safety of our community during the pandemic.
The night's unifying celebration is captured in the words of one of Dallas' prominent leaders: "It is extremely rare to experience the suspension of time and space – but Together We Sing hit that mark. Last night's event was inspiring, engaging, uplifting, and so much fun. Congratulations to you and your team on a stellar event! The curation of musical and visual delights was an absolute sensory sensation, and I am still savoring every bit of it. I know I'll remember this event forever and will be counting the days until next year's program."
Without the help of our remarkable sponsors, generous donors, and magnificent volunteers, Project Unity could not have shared the unifying power of music through Together We Sing.
So, whether sponsor or donor, volunteer, or ticket purchaser, we invite you to be a part of an experience you will not soon forget. Together we will sing – June 15, 2023!
2022 Facts & Figures
1,609          Tickets (Sold out)
46              Event Sponsors and Donors
289            Net Funds Raised in Thousands of Dollars
article
EXPAND STORY
Together We Ball (TWB) is one of Project Unity's most exciting and accessible programs. Once a year, we bring the community together for a free, daylong unity celebration through basketball. The fun-filled day includes sport, food, family entertainment and activities, and more. 2022 marked Project Unity's 6th annual "Ball" event, and we pulled out all the stops. Event co-hosts included Dallas Mavericks CEO Cynt Marshall, Paul Quinn College President Michael J. Sorrell, Dallas Police Chief Eddie Garcia, and Dallas County Sheriff Marian Brown.
Held at Paul Quinn College in 2022, TWB's overarching purpose is to promote unity in our community. The "Pastors and Police" basketball game served as the day's headliner. Coached by Dallas Mavericks legend D. J. Mbenga and SMU Head Basketball Coach Rob Lanier, law enforcement officers and community and faith leaders played side-by-side to remind attendees that what unites us is greater than what divides us. A high school exhibition game showcased some of the area's top basketball talent. Guests from across the metroplex enjoyed the unifying power of a sport we all love – basketball.
The day offered numerous forms of entertainment and education that included a youth Skills and Drills Camp hosted by the Dallas Mavs Academy, radio personality Chris Arnold, the Mavs ManiAACs, the drumline, the Mavs D-Town Crew Dance Team, and everyone's favorite basketball mascot, Champ. Attendees had the opportunity to interact with five different law enforcement agencies and hear the magnificent voices in the Unity Choir. The community agreed: Together We Ball remains undefeated!
2022 Facts & Figures
700+        Attendees
55             Youths Participating in Dallas Mavs Skills and Drills Camp
18             Participating Community and School Organizations
37             Players Competing in Basketball Games
5               Law Enforcement Agencies Providing Safety Information
DE&I and Community Educational Events
---
Jesuit Social Justice
Project Unity was excited to continue its partnership with Jesuit High School as part of the school's Social Justice Senior Summer Intensive Program. Eight Jesuit seniors learned about Project Unity programming and impacts from a social justice perspective. Students helped plan and implement our Together We Learn and Together We Dine programs for fellow classmates. We are proud of these young leaders of tomorrow and look forward to doing more with Jesuit students in 2023.
Listen & Learn Speaker Series
Project Unity has been privileged to host a platform for amazing and inspiring personalities since 2021 as part of its Listen & Learn Speaker Series. These virtual events invite the community to learn from some of the most passionate human beings and voices of change in our time, voices that offer thoughtful perspectives on how each of us, regardless of personal beliefs, can chart our personal journey with race, race relations, and matters of diversity within our own space.
Last year we welcomed Qubilah Shabazz, daughter of Malcolm X and Betty Shabazz; Opal Lee, known as the "Grandmother of Juneteenth"; and Rev. Peter Johnson, a prominent Civil Rights leader. Each distinguished guest shared aspects of his or her life story that allowed attendees to take a virtual walk in their shoes with the opportunity for introspection and understanding. We hope each of our attendees will join us in 2023 for an exciting new slate of Listen & Learn speakers.
DE&I Partner Collab Lab
The Collab Lab is Project Unity's Diversity, Equity & Inclusion (DEI) partner program that launched in March 2022 as a bi-monthly collaborative meeting with our partners. The Collab Lab offers a safe space to come together and share ideas, information, and resources to improve our DEI tools and industry practices. We discuss ways to use Project Unity programs to advance DEI and create volunteer opportunities. Each meeting features one of our amazing partners who presents a DEI topic, its internal DEI strategies and/or programs, and ideas that could enhance both Project Unity and our partner organizations' efforts. In less than a year, the Collab Lab has grown to include organizations like NTT DATA Services, Jackson Walker, Comerica Bank, The Richards Group, PricewaterhouseCoopers, and others.
Dallas Police-Community Initiative
Project Unity works with the Dallas Police Department to help improve and build community relations while establishing understanding and trust. In 2022, Chief Eddie Garcia worked to improve safety in areas of Dallas that had high crime rates by putting these areas on the "crime grid." To help these efforts, Project Unity partnered with Chief Garcia to host a meeting of faith leaders to identify solutions to engage the community in helping to lower crime. The idea of hosting community walks in "high crime" areas was determined as a key method to get officers out in the community to listen to residents and engage them in conversation–all while making a presence. Through our partnership, we hosted other community walks in areas deemed as "high crime." Project Unity served as a resource, providing volunteers to join the walks and conversations, meals for officers, and snack bags officers used to distribute to neighborhood children. Community Walks will continue in 2023.
---
42 NEWS STORIES aired or published via multi-media platforms.
FOX-4

NBC-5

ABC-8

CW33

KRLD

Spectrum News 1

Dallas Morning News
D Magazine

People Newspapers

Dallas Express

Invest Dallas

Dallas Voice

Dallas Innovates

Houston Chronicle
MSN

Yahoo!

Urban Arts Magazine

Patron Magazine

Texas Metro News

Plano Star Courier

Irving Weekly
218.2 MILLION unique visitors across all platforms.
MSN

177.5 million unique visitors

Yahoo!

26.7 million unique visitors

DMN

5.3 million unique visitors

Houston Chronicle

3.8 million unique visitors
WFAA

2.1 million unique visitors

KDFW

1.5 million unique visitors

KXAS

1.3 million unique visitors
---
---
Recognizing Our Volunteers
EXPAND STORY
Thanks to the commitment and generosity of our amazing volunteers, 2022 was our most impactful year yet. Hundreds of volunteers gave thousands of hours partnering with Project Unity to support their community. We were able to offer more programs and events and touch more lives than ever before. Our growth would not have been possible without the hard work and time of our volunteers.
THANK YOU!

---
---
EXPAND STORY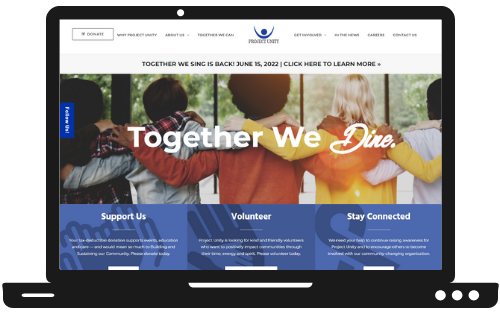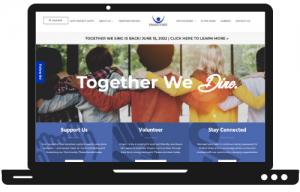 Enjoying these stories? There's even more on our website, ProjectUnity.net! Stay up to date on our community impact initiatives, meet our Project Unity leadership and team, view upcoming events and more.
---